Taking Flight: 6 Weeks to an Inspired Writing Practice (Online)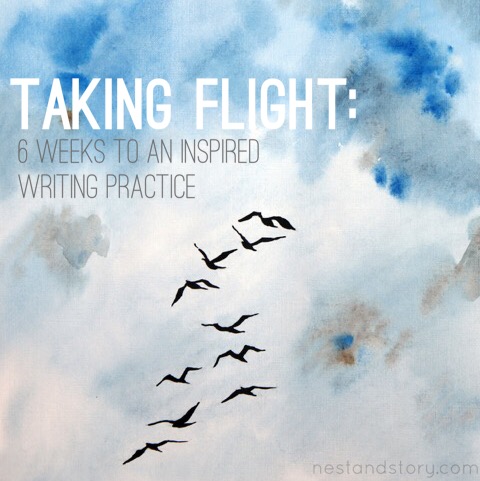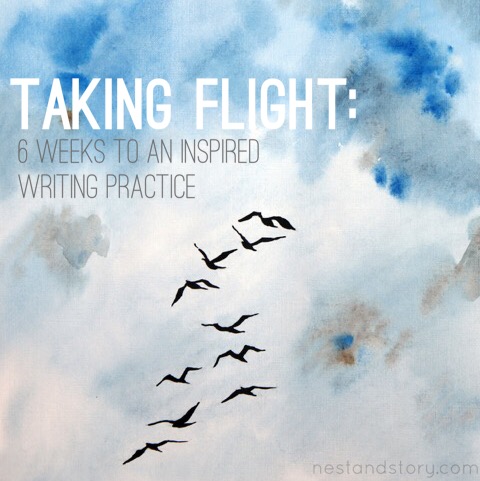 Taking Flight: 6 Weeks to an Inspired Writing Practice (Online)
Taking Flight is an online writing course by Nest & Story designed to help you create the writing life of your dreams, step by step. Prompts, stories, motivation, inspiration -- from wherever you are in the world. This self-study course is designed to help you build an inspired personal writing practice that fits your life.
You'll work through six different modules at your own pace which include essays to inspire you, journaling exercises, writing prompts and an assignment to launch your writing practice forward. Each week, you'll also receive a coaching email to help keep you on track. Whether you're an established writer or just starting out, Taking Flight will help you make friends with the blank page and re-connect with your creative self.
At the end of the course, you'll come away with:
Pages and pages of fresh new writing based on unique and creative prompts.
A stronger sense of your authentic writing voice.
An inspired writing routine that fits your life.
Stronger writing skills developed through the power of creative play.
Six weekly coaching emails designed to motivate and inspire.
A $25 credit towards a manuscript review, so you can get personalized feedback and encouragement on your writing.
A stress-free writing life that fills you with joy.
Prior writing experience isn't required, and this workshop isn't genre specific. Whether you're a novelist or blogger, slam poet or journalist, memoirist or something entirely different -- Taking Flight is for you.
The Modules:
Hatching: Claiming Yourself as a Writer
Testing the Wind: Weaving A Writing Practice Into Your Life
Stretching Your Wings: Reconnecting with Your Authentic Writing Voice
Lifting Off: Mindfulness and Sensory Writing
Gaining Altitude: Exploring Elements of Craft
Soaring to New Heights: Envisioning Your Dream Writing Life
This course may be for you if:
You want to dedicate more time and energy to writing, but aren't quite sure how to make it all fit.
You want to connect (or reconnect) with your creative self.
You want to write, but you're afraid to claim your identity as a writer.
You're too busy to commit to an in-person workshop, or you love the idea of working through prompts on your own rather than in a group.

You love the flexibility of working at your own pace.
This course probably isn't for you if:
You have trouble getting motivated to work on your own, or you prefer writing in a group setting.
You're looking for specific information on how to get published, or technical instructions on grammar or writing in a particular genre. (We'll be addressing some elements of craft, but not in a genre-specific way.)
How it works:
When you purchase Taking Flight, you'll receive a getting started guide in PDF format. This will contain a link to the private Taking Flight website and a password to use to log in. From there, you'll be able to download each of the modules. Within 24 hours of purchasing the course, you'll also receive your first coaching email, followed by five more (1x per week).
Tech specs:
All you need for this course is a computer or device that can open web pages and download PDF files.
Questions:
If you have any questions about this course, please don't hesitate to get in touch.